Latest advice on Coronavirus
Friday 27th March 2020
Our gallery keeps growing - it's great seeing all of the pictures! Keep emailing them to pupils@pipworth-cps.sheffield.sch.uk
Entries to the Teacher Challenge are coming in. Send your child's entry to the email address above and we will put it on the website.
NEW RESOURCES added to our 'General Resources' page, including 'Now, Press, Play' and Mindfulness resources.
Please read the important information below:
Wednesday 25th March 2020
Many more pictures have been added to our 'Home Learning' gallery.
Also, in 'General Resources' we have added Pete McKee art lessons, a virtual tour of the Natural History Museum, White Rose maths lessons and links to Sheffield Libraries ebook collection.
Finally, have a go at Mr Kelly's 'Teacher Challenge'.
Tuesday 24th March 2020
We have a new gallery page under Parents\Home Learning with lots of pictures of Pipworth pupils learning from home. If you would like to contribute, email your pictures/videos/writing to: pupils@pipworth-cps.sheffield.sch.uk
Also, new learning activities added today, including live opera, ballroom dancing and a tour around a secret WWII bunker. Go to the 'General Resources' page under Parents\Home Learning to see details!
Monday 23rd March 2020
Dear parents and carers
I am writing to remind you that, although school is closed to most pupils, we are still able to provide a packed lunch for those pupils who are entitled to free school meals. This will be available for you to collect each day from the dining hall, between 10.30 and 11.15 am. To comply with social distancing guidance, pupils will not be able to eat this in the dining hall and you should leave immediately after collecting it. Please do not send pupils to collect this without you.
During these difficult times, please be aware that there is a member of staff in the school answering the telephone. Should you need any help or advice, telephone school and we will do our best to help.
Please keep checking the school website. Learning activities and ideas will be put on there regularly and any further information that you need to know about school will be there also.
Stay safe.
Yours sincerely,
Julie Storey
Headteacher
Friday 20th March 2020
We would love to see the amazing work that you have been producing whilst learning at home, so please email any pictures/writing/videos to us at:
pupils@pipworth-cps.sheffield.sch.uk
All of the amazing work we are sent will go into our 'Home Learning' gallery on the website and may even appear on our instagram account!
Friday 20th March 2020
Dear parents and carers
During school closure, a free school meal will be available for all those not in school who are entitled to free school meals. This will be a packed lunch, which will include a drink.
The dining hall will be open for parents on school days to collect this between 10.30am and 11.15 am. Children will not be able to eat this in the dining hall. To comply with social distancing, please do not send children on their own to collect this and please leave the premises straight away.
Yours sincerely,
Julie Storey
Headteacher
Wednesday 18th March 2020
Dear Parents/Carers,
If your child is at home, and is not poorly, the expectation is that some home based learning will take place. Please click here to access learning tasks for your child's year group. The tasks will be updated by teachers weekly.
Additionally, there are many links and helpful videos on the 'learning at home' page of the website, that can be found here.
Also, some of the resources that your child uses in school have been made free to use at home:
https://ttrockstars.com/ (each child has been given their individual username and password)
Tuesday 17th March 2020
Dear parents and carers,
I am writing to you again following further government guidance on Monday 16th March 2020 about the national coronavirus strategy. Current advice has escalated and includes the following new specific guidance centred around 'social distancing':
Anyone with a high temperature or cough, or who lives with someone with these symptoms, should self – isolate at home for 14 days.
Non-essential contact with others and all unnecessary travel must stop.
Pubs, clubs, theatres and other such social venues must be avoided.
Whenever possible people should work from home.
As coronavirus seems to be a relatively lower risk for children, and because of the wider impacts of school closures on everyone, especially those parents involved in the NHS, the government plan is to delay closing schools until they feel it is necessary. As such, Pipworth Primary will remain open until we are advised to close by Public Health England. It is uncertain if and when this guidance will change. Importantly, there are no reported cases of Coronavirus in our school at present.
To help reduce risks in school we have cancelled, until further notice, the following activities:
- All meetings between school staff and other agencies, except safeguarding meetings.
- All trips and visits, including the upcoming Movefest, Y1 library visit, partnership games or any sporting events and FS2 church visit.
- Extra-curricular clubs after school
- In school music lessons
- No Y2 or Y6 Easter school
- Non-essential visitors in school
- No assemblies
- No 'Wrap around care' after school from today
Please note that 'Wrap Around Care' will be open as usual before school only.
We will also be making the following changes to our usual procedures:
- Parents will be encouraged to drop off / pick up and leave promptly at both ends of the school day. Parents are asked not to come into the building to drop off pupils or pick them up, teachers will bring them to the yard, this includes Y1.
- Assemblies will be held in-class. Alongside this, we will continue to educate children about the coronavirus in an age appropriate way with factual information, without being alarmist. We are reassuring them and answering their questions. Children are reminded to wash their hands frequently and to use tissues to cover their cough or sneeze. Extra cleaning of surfaces is taking place around our school and we are doing our best to continue with learning and usual school routines where possible
The school is also actively planning for how it will cope with reduced staff or pupils, and for possible future short term closure. To ensure parents / carers receive school up-dates we have dedicated the home page of our school website to the current situation.
http://www.pipworthprimary.co.uk
This includes all recent letters and links to important government advice. Please visit the website in the morning and evening to check for regular daily up-dates. If your child or any member of your family are self-isolating, please call school on 0114 2391078. Legitimate absence from school at this time will not affect your child's official attendance.
Thank you for all your support – I know the brilliant Pipworth community will rally together at this most unsettling time.
Yours sincerely,
Mrs.Kenyon
Before and After school provision begins on Monday 9th March! Click

here

to find out further information.
Message from the Headteacher
Welcome to our web site.
Pipworth Community Primary School is a caring, friendly, busy community which has the well being of all our children at the heart of all we do. We have a strong commitment to every child achieving his/her potential across all areas of the curriculum.
Every child is unique and will bring his/her own personality to our school. Everyone is valued as an individual and we aim to provide a wide range of curricular and extra-curricular opportunities, enabling talent and creativity to be identified and nurtured. We do our utmost to make sure that every child achieves, through high expectations and challenge provided in a safe and caring environment. We try very hard to build successful links between school and home which will bring benefits to us all.
I feel very privileged to be the Headteacher of such a wonderful school, full of happy, well-behaved children who bring us joy every day. I hope you find the information in our web site useful, and that it will help you understand our vision and share in our achievements.
Julie Storey
Headteacher
Pipworth Community Primary School in top 3%
Once again, the fantastic efforts of all of the staff, pupils and parents and carers at Pipworth have been recognised by the Minister of State for School Standards. The latest set of school results, released on 13th December 2019, have shown that progress for children at Pipworth from Key Stage 1 to the end of Key Stage 2 is amongst the top 3% of schools in the country. Read the letter below: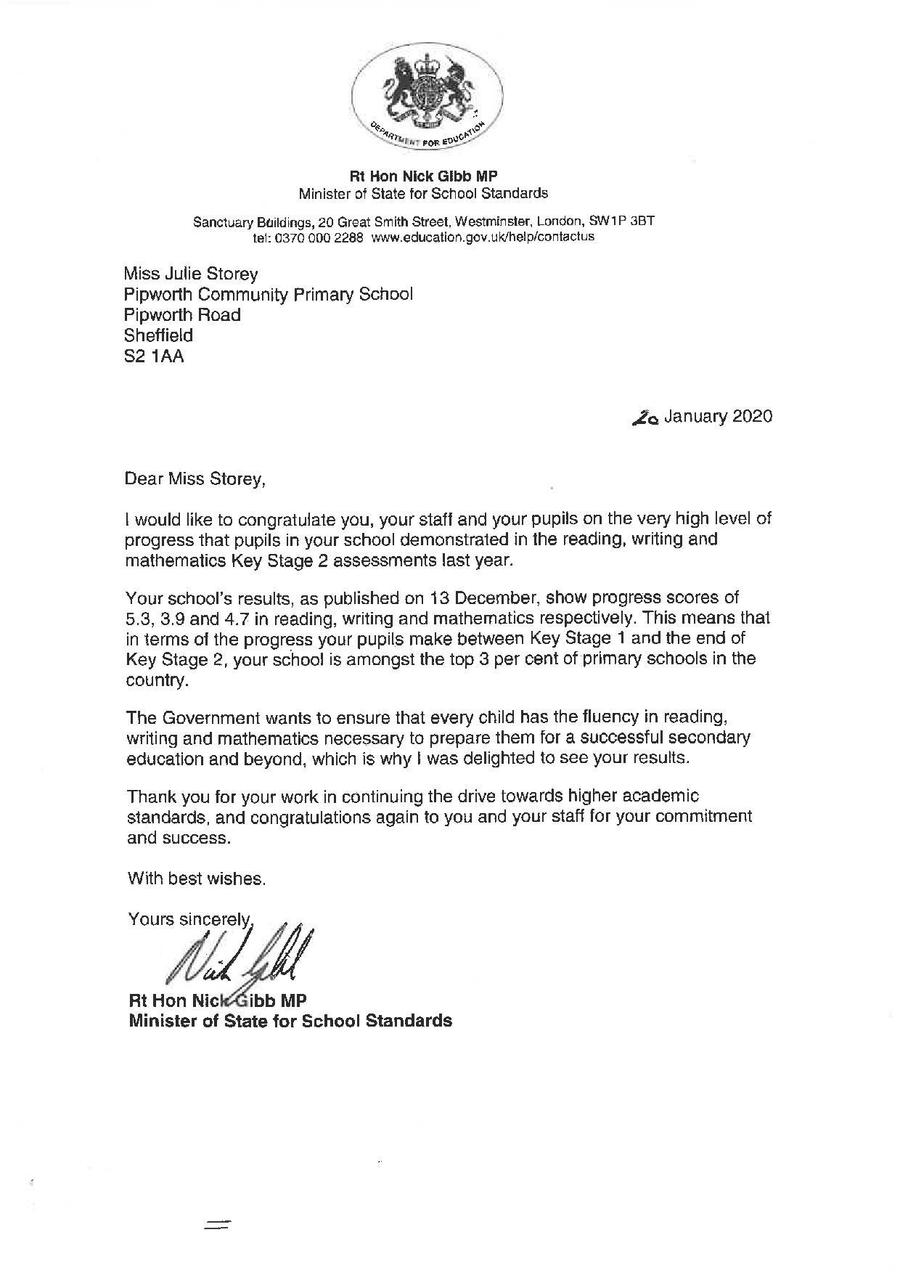 Latest School Calendar Events
Year 2 SATS

01

May

2020

Year 2 will be completing their SATS papers during the month of May.
SSELP are a collaboration of 18 schools in South East Sheffield, working together to achieve the best outcomes for our pupils and families. Click on the logo above to find out more about SSELP.
We also provide teacher training through School Direct. Click on the following link to find out more about how to train as a teacher with SSELP School Direct courses: http://www.sselp.net/school_direct_work.aspx