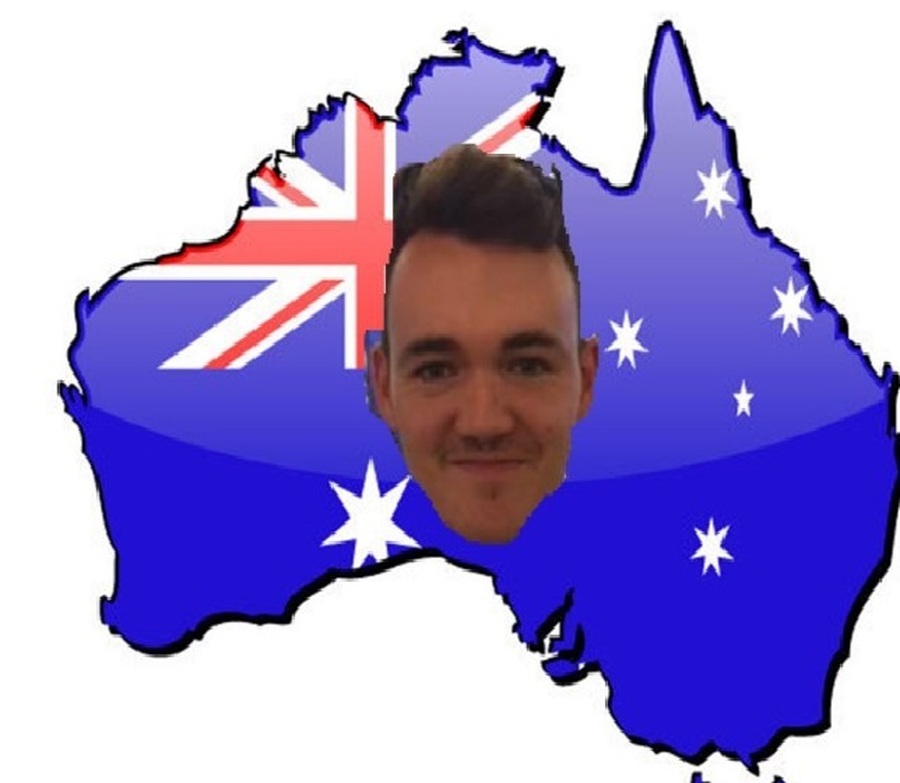 Pipworth Pom
Pipworth's own, Mr Chatterton, is currently on his travels 'down under' as he spends the next year in glorious Australia! He has kindly agreed to keep us updated with regular pictures and letters, outlining all of the exciting things that he has been up to.
January Summer Holidays
In Australia the school holidays are different to ours: they have theirs in January, as this is the summer over here. This meant I had a lot of time to do some exciting things. First of all we went to watch the Australian Open tennis tournament in Melbourne. This was a fantastic experience watching the best tennis players in the world play against each other (Miss Storey would be very jealous!). We managed to watch the British players play including Kyle Edmund who eventually lost in the semi-finals!
During the holidays we also had a mini holiday to Tasmania which is another state in Australia (but is actually an island below on the map). We flew to the north of the island and then drove down the coast to the city of Hobart at the bottom. On the way, we saw some beautiful sights and some amazing beaches. Apart from that, the island was really quiet and empty as the population is so small. I think there was probably more sheep than humans on the island!
It is now the end of the school holidays and we have started back at work! Only 7 more months until I'm home!
Mr C
Christmas in Australia
Hi Guys
Sorry for the delay it's been a busy summer holidays.
This year, Christmas was a little different to normal. Instead of the traditional Christmas lunch in the cold and wet weather, we had an amazing Christmas BBQ in the scorching sunshine. This was also a brilliant Christmas, as 2 of my friends came over from England to visit for a few weeks. On Boxing Day we went in to Melbourne to watch the famous Boxing Day Test match which is a game played between England and Australia for the Ashes. This was at the MCG Stadium which holds nearly 100,000 people. As you can see from the pictures it is a giant place and was packed full of England fans.
My Christmas present was also a little different this year... I got to have a Helicopter ride around Melbourne! This was amazing as I've always wanted to go in a helicopter. We travelled at over 100 mph and saw all the amazing sights of Melbourne (and its coastline). I was lucky enough to fly in the front seat next to the pilot, however he wouldn't let me fly it!
I hope your Christmas was fantastic.
Mr C
Sydney
Hi everyone,
It's been another busy month since I last wrote, in this time I have started teaching at a school over here called Northern Bay Wexford which is a similar school to Pipworth (but not as good). I have also had a visit from my mum who has flown out to visit for 3 weeks!
We went on a trip to Sydney which is a different city that we had to fly to. It took an hour on the plane but if we wanted to drive it would have taken us ten hours!! Sydney was a cool place with some very famous landmarks such as the opera house and the harbour bridge! We climbed to the top of the bridge on a tour. This was nearly one hundred and fifty metres tall, it was an amazing view when we reached the top!
We also went to a zoo called Taronga which you could only visit by boat! While in the zoo we met lots of animals and got to feed koalas and giraffes ! I also went face to face with the tiger who kept roaring at us. Luckily it was behind glass!
The weather is really hot out here most of the time which is strange near Christmas. People are putting their trees up over here but it doesn't feel Christmassy!
Hope you're all working hard. Only 3 more weeks to go!
Mr C
A Month Down Under
It's been 5 weeks since we set off on this adventure and time has flown by. We have been in Australia for over 4 weeks now and have been extremely busy working, sight seeing and playing cricket.

We are living in a city called Geelong which is an hour away on the train to Melbourne which is a much bigger city. Luckily, Geelong is a beautiful seaside city as you can see on the pictures. We are living very close to the beach but haven't been able to go in the sea yet as it's too cold! The weather is due to warm up shortly just as it's getting cold in England. Last week we had 2 days where the temperature got above 30 degrees and it was boiling.

I have been very busy with cricket for my new team called The Manifold Heights Sharks. We have been training every Tuesday and Thursday since we arrived and have played 3 league games so far. I am the wicket keeper in the pictures and my shirt is number nine. Sadly, we lost 2 of them when we should have won. In the game we won, I got man of the match for getting 88 runs and 3 wickets. I have been in the local paper quite a lot which led to a really embarrassing photo shoot which you can see. I had to stand in the middle of the field surrounded by flashes and cameras! Luckily I had my hair cut the day before!

As well as playing cricket, we have started working. Sandie has got a job for 'quicksilver' the surf company and I have had 3 different jobs. I worked in a warehouse which was very boring, I have worked as a builder laying wooden floor boards and my current job is teaching aboriginal art in a prison. It is very different to teaching at school but still lots of fun! Hopefully when I'm back we will be able to study the aboriginal tribes and their artwork. Hopefully, next week I will start working in schools again.

So as you can see it's been a busy month playing, working and traveling. Hope you're all working hard at school and it isn't too cold in Sheffield!


I will send more pics in another month.

Mr C
Hong Kong
On his long journey to Australia, Mr Chatterton had chance to have a brief stop in Hong Kong for a few days. Here's some pictures of his time there: